Huey, Dewey, and Louie Duck are a trio of ducks who appear in animated cartoons and comic books published by the Walt Disney Company. Identical triplets, the three are Donald Duck's nephews. Huey, Dewey, and Louie were created by Ted Osborne and Al Taliaferro, and first appeared in a newspaper comic strip on October 17, 1937. Their first animated appearance was in the theatrical short Donald's Nephews, released April 15, 1938.
On a few occasions, there is a fourth nephew that appears, slipping through by a mistake of the artist. He has been named "Phooey Duck" by Disney comic editor Bob Foster. One short Egmont-licensed Disney comic explained Phooey's sporadic appearances as a freak incident of nature.
Huey, Dewey, and Louie are the sons of Donald's sister; in Donald's Nephews, Donald's sister is named Dumbella, but in the comics, her full name is Della Thelma Duck. In the original theatrical shorts, they were originally sent to visit Donald for only one day; in the comics, the three were sent to stay with Donald on a temporary basis, until their father came back from the hospital (the boys ended up sending him there after a practical joke of putting firecrackers under his chair). In both the comics and animated shorts, the boys' parents were never heard from or referred to again after these instances, with the boys ending up permanently living with Donald, in keeping with Disney's usual elimination of characters' parents. All four of them live in the fictional city of Duckburg, in the fictional state of Calisota.
The boys are noted for having both identical appearances and personalities in most appearances, with the three sometimes shown as finishing each others' sentences as a running joke. In the theatrical shorts, Huey, Dewey, and Louie would often behave in a rambunctious manner, sometimes committing retaliation or revenge on their uncle Donald for something he did to them. In the comics, however, as developed by Al Taliaferro and Carl Barks, the boys usually are shown in a more well-behaved manner, usually helping their uncle Donald and great-uncle Scrooge McDuck in the adventure at hand. In the early Barks comics, the ducklings were still wild and unruly, but their character improved considerably due to their membership in the Junior Woodchucks and the good influence of their wise old great-grandmother Elvira Coot "Grandma" Duck.(Wikimedia)
Huey, Dewey, and Louie Wallpaper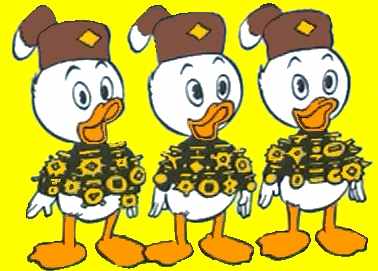 Huey, Dewey, and Louie Image