Morty and Ferdie Fieldmouse are Mickey Mouse's nephews in the fictional Mickey Mouse universe. They first appeared in Floyd Gottfredson's Mickey Mouse Sunday comic strip continuity titled Mickey's Nephews (1932). Since then they have appeared in lots of comic strips and comic book stories starring Mickey Mouse and Pluto.
In pre-World War II Mickey children's books (not comics) produced by the Disney studio, the nephews were usually called Morty and Monty rather than Morty and Ferdie. Very early books contain three or more nephews with various names, including Maisie and Marmaduke. Morty's name, short for Mortimer, is possibly in reference to the originally planned name for Mickey, Mortimer Mouse and Ferdie (sometimes misspelled "Ferdy") is short for "Ferdinand."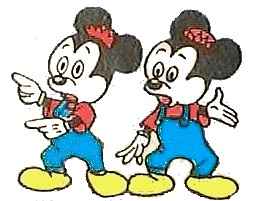 The twins' first film appearance was the 1934 Mickey Mouse cartoon titled Mickey's Steamroller. Aside from a difficult-to-spot cameo in 1938's Boat Builders, they didn't appear in animation again until Mickey's Christmas Carol (1983). Then they made a cameo appearance in a two part Mickey Mouse Works segment titled Around the World in Eighty Days, which was later reused for an episode of House of Mouse.
Morty and Ferdie's mother appears in their 1932 comics debut. In the English version of these strips, she is referred to only as "Mrs. Fieldmouse." In the Dutch translation of the strips, her name is given as Amalia Maus. In various English language references, this is typically Anglicized to Amelia Fieldmouse. The original strips do not make clear that Amelia is Mickey's sister (as drawn, she looks more like a maiden aunt), but the relationship has been clarified when she reappeared in more recent comics, where her name is now more commonly known as "Felicity Fieldmouse" (a designation, at least in part, by Egmont Publishing to distinguish her from Magica De Spell, as Magica is also commonly known as "Amelia" in European Disney comics). The name Felicity is also used in many of the reprints of the early appearances of the Twins. As a side note, Egmont also names Felicity's husband, the Twins' father, Frank, though he has yet to be specifically named or depicted in a published comic.
Ferdie disappeared from the Mickey Mouse comic strip in 1943 because Gottfredson thought the nephews were too much alike. He had plans to bring Ferdie back later as a bespeckled, intellectual, bookworm mouse with an Eton hat and coat with the explanation that he had been away at school. However, Gottfredson never got around to bringing Ferdie back and Morty remained in the strip alone. Morty was occasionally depicted with his best friend named Alvin and a sweetheart named Millie. Both were anthropomorphic dogs. Ferdie never vanished from comic book stories, however. In recent years, some of Morty and Ferdie's comic book appearances have portrayed them as football (soccer) players on the team Riverside Rovers. Their mother is depicted as a supportive "Soccer Mom." Morty & Ferdie are also occasionally pitted against their antagonists Melody, Minnie Mouse's niece and Pete's twin hellion nephews, Pierino & Pieretto.
Morty should not be confused with Micky Mouse's originally proposed name "Mortimer Mouse," or Mickey's ofttimes rival of the same name Mortimer Mouse, or Minnie's wealthy rancher Uncle Mortimer.(Wikipedia)
Morty and Ferdie Fieldmouse Wallpaper