Pluto (formerly known as Pluto the Pup) is an animated cartoon character made famous in a series of Disney short cartoons. He has most frequently appeared as Mickey Mouse's pet dog. He also had an independent starring role in a number of Disney shorts in the 1930s, 1940s and 1950s. Pluto is unusual for a Disney character in that he is not anthropomorphized beyond showing an unusually broad range of facial expressions or use of his front paws at key points; he is actually represented as a normal dog (unlike Goofy who is an anthropomorphic dog).
Two unnamed bloodhounds which are seen in the 1930 Mickey Mouse cartoon The Chain Gang resemble what would in later cartoons appear as Pluto the Pup, Mickey's pet-dog. Picnic, another Mickey Mouse cartoon from the same year features a pet-unicorn of Minnie named Rover. The same canine appears as Mickey's pet-dog in the 1931 cartoon Moose Hunt and is named as Pluto for the first time. From then onwards, Pluto has joined the Mickey gang as a permanent character.
His first comics appearance was in the Mickey Mouse daily strips in 1931 two months after the release of the Moose Hunt cartoon. Pluto Saves the Ship, a comic book published in 1942, is one of the first Disney comics prepared for publication outside newspaper strips. However, not counting a few cereal give-away mini-comics in 1947 and 1951, he did not have his own comics title until 1952.
Pluto has also appeared in the television series Mickey Mouse Works, Disney's House of Mouse and Mickey Mouse Clubhouse. He also had a cameo appearance in Quack Pack. Curiously enough, however, Pluto was the only standard Disney character not included when the whole gang was reunited for the 1983 featurette Mickey's Christmas Carol, although he did return in The Prince and the Pauper in 1990 and Runaway Brain five years later, and was also spotted in Who Framed Roger Rabbit in 1988. In 1996, he makes a cameo appearance in the Quack Pack episode "The Really Mighty Ducks".(Wikipedia)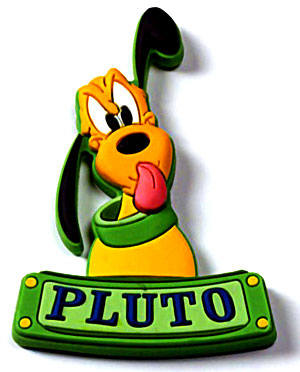 Pluto Wallpaper
Pluto Image