Jim Henson's Muppet Babies was an American animated television series that aired from September 15, 1984 to December 29, 1990 on CBS, Nickelodeon in first-run episodes, and then until 1992 in reruns. It was loosely based on a sequence in the Muppet film The Muppets Take Manhattan, where Miss Piggy imagined what it would be like if she and Kermit the Frog grew up together. The show portrayed childhood versions of the Muppets living together in a large nursery in the care of a human woman called Nanny (the whereabouts of their parents are never addressed). Nanny appears in almost every episode, but viewers never see her face, only the babies' view of her pink skirt as well as her distinctive green and white striped socks.
Muppet Babies was produced by The Jim Henson Company and Marvel Productions and then after Henson's children sold the Muppets the rights to the show were given to Disney-ABC Domestic Television. Although the episodes were 30 minutes (including commercials), it was typically shown in 60 and even 90 minute blocks during the peak of its popularity. Outside of the United States, the show was distributed by Walt Disney Television Animation.
The series starred Kermit the Frog, Miss Piggy, Fozzie Bear, Animal, Scooter, Skeeter, Rowlf the Dog, and Gonzo as the main muppets. Dr. Bunsen Honeydew and Beaker made regular appearances as did Camilla in the form of Gonzo's stuffed baby chick. In the final two seasons, Bean Bunny and Statler and Waldorf began making regular appearances.
Several Muppets made guest appearances including Janice, and Kermit's nephew, Robin.
The Muppet Baby character Skeeter, Scooter's twin sister, only appeared in this series, and was never a real-life Muppet. This was done because the producers wanted another female character added to the cast. Despite this, Skeeter was always voiced by a male actor.
The Muppet Babies live in a large nursery watched over by Nanny, the only human character in the show. The babies have active imaginations, and often embark on adventures into imaginary worlds and perilous situations from which they are eventually returned to reality by some external event, such as Nanny coming to see what the noise was. They are constantly finding ways to entertain themselves in creative ways, and learning to work together to solve problems and survive their wild imagined adventures.
Each episode included a single storyline. Usually the babies were confronted with a child-like problem, such as fear of the dentist, or a question, such as 'where do muffins come from?' Other times, they were simply finding ways to amuse themselves with old toys or video tape equipment. The babies would then enter into their imaginations, transforming their toys into everything from time machines to pirate ships. Nearly every episode contained one song, and occasionally more than one. After the credits, the episodes would end with Animal shouting out his catchphrase 'Go bye-bye!' usually while Gonzo blasted off into the sky due to some accident he or Animal had caused.
Although the program was a cartoon, live-action film sequences were added in unusual moments. Whenever the babies opened a door, box or book, they were often confronted with anything from a speeding train to a space ship. Foreign landscapes in their imagination were usually photos or bits of stock footage which the babies would walk across, interacting indirectly with the film's actors. Though much of the live-action came from stock footage and old black-and-white horror/monster films, more recent films such as Star Wars and Indiana Jones were also played and parodied.
The show was drawn from the babies' point of view, meaning the babies were always looking up to view the world. Objects like couches and doors were far larger than normal and more momentous obstacles for the babies. As a result of the upward view, the faces of adult characters were never shown. Nanny was only ever seen from the shoulders down as were the adults in the babies' fantasies. Exceptions were made for Uncle Statler and Uncle Waldorf and a few 'Muppet style' adults in the fantasy worlds.(wikipedia)
Jim Henson's Muppet Babies American Animated Television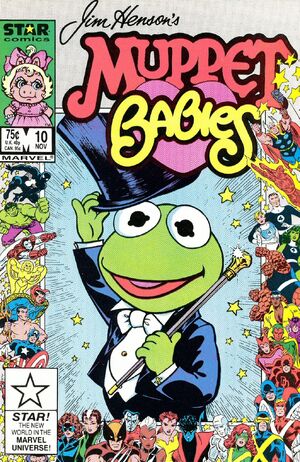 Jim Henson's Muppet Babies Picture