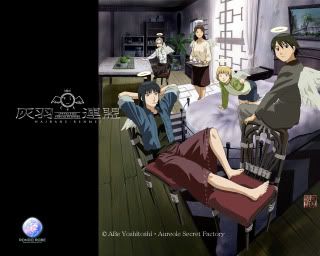 My other half decided to buy this series because it was different and it was cheap, we were both in for a surprise when we watched this anime.
Haibane Renmei
is a 13 episode series created by
Yoshitoshi ABe
(a graphic artist), it was originally a dōjinshi comic series, there was only one produced and there is little similarity to the anime. ABe is also responsible for the character design on other anime series such as:
Serial Experiments Lain
,
Texhnolyze
and
NieA under 7
(his own creation) which is why they all have the same style. Unlike the norm in Japan with most manga artists ABe does not use a ruler to draw, this gives his work a rough edge to it.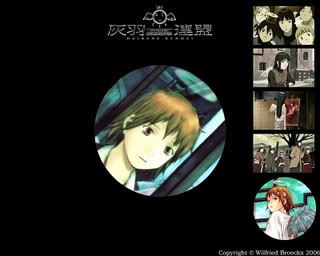 Haibane Renmei follows the life of
Rakka
the newest Haibane to arrive to Old Home in the walled city of Glie (no one in the town is allowed out of these walls). The anime starts with Rakka falling out of the sky (this is her cocoon dream) and Reki one of the oldest Haibane, finds her cocoon. When Rakka finally 'hatches' out of her cocoon she is a teenage girl with no memory of her past. She is welcomed by the other girls in Old Home and soon finds herself fitting in. The series takes a dark turn when Kuu takes her day of flight and leaves Glie in a flash of light in the western woods. Rakka doesn't understand why Kuu left and falls into depression with the grief of losing a friend. Rakka is helped out of this depression and in the process discovers she is there to help someone else.
This is a very good anime but we are never told why the town of Glie exists or even where it is. But I think this is good; the character never finds out either, they can only guess and we are left doing the same. Some have said that the Haibane are kids that have committed suicide (I thought this as well) but
ABe disagrees with this interpretation, but he encourages readers and viewers to come to their own
conclusions. And I think this is great as not everything needs to be handed to us on a plate and it keeps the mystery of the anime. I would recommend this anime as it is a real gem and I am glad my other half bought it because it sounded different.
This is a good trailer but some of it is in German.